Boudica Bowl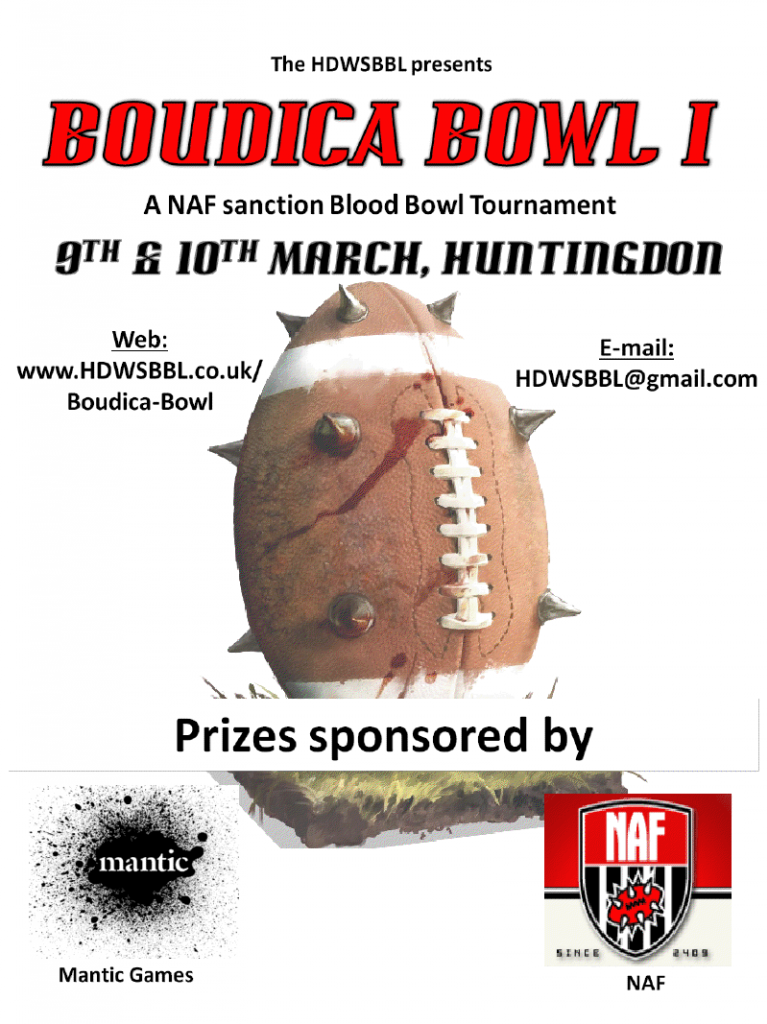 Cost
The cost for entering the tournament is £15 for NAF members and £20 for non-NAF members which will include your NAF membership. Payments can be made payable through PayPal or you if you wish you can pay at the door but please let us know if you are going to do this so we know that you're coming.
If paying online please ensure that you include your full name and NAF username so we know that you have paid.
Venue & Accommodation
The location for the Boudica bowl is a working men's club in Huntingdon. The address is:
The Montagu Club
14 Hartford Road
Huntingdon
Cambridgeshire
PE29 3QD
The venue is right in the heart of the town with an abundance of parking at the front and rear of the building. To reach the building you need to come off the ring road at the turning just before the bus station, follow the road round past the main high street and the venue will be on the left hand side, being a one way system is it best to take the first left into the car park in case there are no spaces at the front.
Huntingdon train station is only five minutes away from the town centre and the Bus station is only a two minute walk to the venue.
Accommodation will be solely up to the entrants if required. There are Travelodges down the road at Brampton services and Fenstanton, or there are various B&B's in the town. A google search will bring up many nice places.
Location Map
http://www.hdwsbbl.co.uk/wp-content/uploads/2012/10/Monty.gif
The red X is where the Montagu club is (not to be confused with the tag which is in fact someones house!). The arrow is where you need to turn in to reach the Car Park at the rear of the club.
Schedule
The tournament will feature six matches over two days in the following schedule:
Saturday 9th March 2012
9:00 – 9:45            Team registration
9:45 – 10:00          First round draw
10:00 – 12:15        First round matches
12:15 – 13:15        Lunch (Painting competition will be judged during this hour)
13:15 – 15:30        Second round matches
15:30 – 15:45        Small break
15:45 – 18:00        Third round matches
18:00                     End of day one and to the Pub!
Sunday 10th March 2012
10:00 – 12:15        Fourth round matches
12:15 – 13:00        Lunch
13:00 – 15:15        Fifth round matches
15:15 – 15:30        Small break
15:30 – 17:45        Sixth round matches
18:00                    Final Presentation and close of tournament
We will head to a local pub for evening food and plenty of drinks. There will be a buffet lunch laid out each day and doughnuts and coffee both mornings.
Rules
Rosters
Boudica Bowl will be using the Competitive Rules Pack, which is available from:
http://www.games-workshop.com/MEDIA_CustomProductCatalog/m780049a_Blood_Bowl_Competition_Rules.pdf
All 24 teams, including Slann, Chaos Pact and Underworld can be used (rules for those teams can be found here http://www.thenaf.net/files/NewTeams_LRB6.pdf).
Each coach will get 1,100,000 gold pieces maximum to spend on their team.
All inducements are allowed, except for mercenaries, special play cards and wizards. Star players are allowed, but you must have 11 rostered players before you can purchase them.
Your team may feature non-GW miniatures but they must represent the race and position which is easily recognisable. Teams must be based, numbered and feature at least three different colours (after all you could win a trophy if they are painted well).
Skills
Before registration, a team may pick from one of the following skill packages:
6 normal skills
4 normal skills and 1 double
2 normal skills and 2 double
No player may be given more than one skill, and no stat increases are allowed.
Before game 4 starts, 2 more normal skills are available. These may not be given to players who gained skills before the tournament started.
Tournament Play
This is a resurrection tournament, so there are no SPPs, and injuries do not carry over between rounds. No winnings are used and fan factor will also not change between games.  Undead and Necromantic teams may raise a zombie for the current game, but will not get to keep them for the rest of the tournament.
Each round will last approximately 2 hours. We will give out regular time reminders in the hope we don't overrun.
Scoring
Boudica Bowl will be a six game tournament. The first round will be a random draw, then rounds two to six will be drawn Swiss style. We will endeavour to make sure that you do not face the same opponent twice.
Points are scored as follows:
10 points for a win
5 points for a draw
1 point for a loss
In addition, teams can gain up to 6 bonus points per match:
1 per touchdown, to a maximum of 3
1 per casualty, to a maximum of 3.
For determining prizes, the following tie-breakers will be used (in order):
Head-to-head record (where applicable)
Net (combined) TDs & Cas
Deaths caused
Coin toss
Trophies & Prizes
For the Boudica Bowl this year the following Trophies and prizes are up for grabs:
Tournament winner
Runner-up
League Winner (3rd Place Coach)
Wooden Spoon
Most TDs
Most Cas (Only Casualties which can earn you SPP's count)
Stunty Cup (If there are enough stunty teams)
Best Defence (least TDs conceded)
Best Painted (Will be judged after the first match on Saturday)
Schwing award  (http://schwingaward.org/)
Other prizes may be handed out during the weekend for valiant acts of daring do or for complete and utter cock-ups and mishaps you may encounter.
Eligible teams for stunty cup are: Halflings, Goblins, Ogre, Lizardmen (only Skinks + Krox) & Underworld (only Goblins + Troll). And as stated before, Stars are allowed only when eleven players have been purchased before hand.
What do you need to bring
Still with us? Excellent, we do require you coaches to bring yourself and your friends, but we also ask you bring the following with you to the tournament:
Your painted team
A board plus dugouts (we may be able to provide some, but probably not enough for everyone)
Range ruler / templates
Two copies of your roster
Is there anything else?
No, upon reading these rules you are ready to enter the Boudica Bowl I. We hope you all have a safe journey to and from Huntingdon and we wish every coach the best of luck in our first ever tournament.
If there are any problems, either on the day for before hand please email: alex.j.turpin@gmail.com.
You can also download this rulepack at: http://www.hdwsbbl.co.uk/wp-content/uploads/2012/10/Boudica-Bowl-I-Rulepack.pdf